Our hotel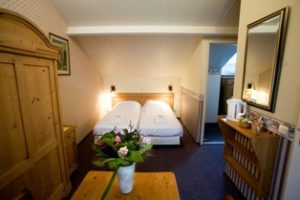 It was our forefather, Jules Joseph Grossat, who established a confectionery in 1922 on the site of the present hotel. In 1995 we opened the doors of our hotel "The Emauspoort". Part of the hotel comprises a room with great ambiance situated in the oldest building. This room is very suitable for small formal and informal meetings.
Accommodation
Our hotel has 24 rooms and 2 Gypsy Caravans. In the hotel are rooms for 2  and 3 persons and family rooms ( 2 adults and 2 children) All are recently restyled (beginning of 2020) and are fitted with shower or bath, toilet, telephone, TV, coffee and tea making facilities. In all rooms a free WIFI-network is available for your own laptop or PDA.
A number of rooms are located in our picturesque courtyard. At the front of the hotel are 2 rooms with views of the most painted and photographed house in Delft. One of them is a family room and the other is the "Vermeer room". Please note that our hotel is non-smoking. In the morning we serve a large breakfast buffet, you can always rely on fresh baked bread from our own bakery.
In the evening you are welcome to enjoy the atmosphere of our lounge room until 10 pm. Here you can drink a cup of coffee or order a drink from the bar. This room also has a reading table, TV and Internet.
You will remember a stay at "Hotel de Emauspoort" for it's informal and personal atmosphere. We are there for you day and night.
Michelin hotel
We were again surprised to find a funny looking man in front of our hotel name in the Michelin Guide 2015. It is a "Bib Hotel".



Booking.com
In january 2016 we were rewarded with a  9.1 from Booking.com. The rating is based on the review from the hotel guests who booked through Booking.com.