About The Emauspoort "Just Like Home"
We will tell you about us.
The Emauspoort "Just Like Home" is located in a monumental building in the center of Delft. The building has an authentic appearance. Until May 2022, De Emauspoort served as a hotel, but as of May 1, 2022, we changed our business into a Short Stay accommodation for longer term rentals instead of rental per night. We rent out units of various sizes for up to 6 months. The name "Just Like Home" tells something about us; we like to give you the feeling as if you are at home.
The distinguishing feature of a stay at De Emauspoort is the relaxed personal atmosphere. This is because it is a real family business. De Emauspoort also has a warm team that is always ready to help you so we wish you a warm welcome to De Emauspoort "Just Like Home" !
History
The history of De Emauspoort began with the ancestor of current owner Jeroen Struyk, namely Jules Joseph Grossat. He established himself in 1922 in Delft Centre as a confectioner. He started at the location where Short Stay De Emauspoort "Just Like Home" is now located. The next generations changed the confectionery into lunchroom, catering, and a place to celebrate.The son of Lida and Jules joined them and started with a hotel.
The building breathes history.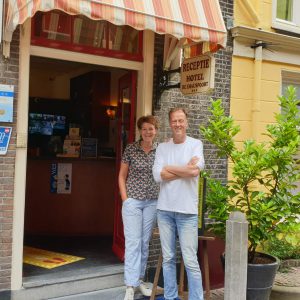 Jeroen and Dees
In 1995 Jeroen opened the doors of The Emauspoort Hotel and together with his wife Dees they ran the hotel for 17 years. Since May 2022 the function of De Emauspoort has changed into a Short Stay accommodation. They rent out temporary housing units for up to 6 months. You are welcome for Short Stay (3-6 month with a maximum of 12)
The property is fit for students who have to live temporarily in Delft. The Short Stay building is also fit for people who are looking for a temporary solution for their housing problem.